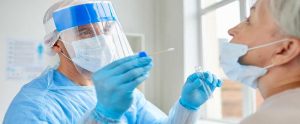 There is a new mutation of a coronavirus that is spreading throughout the United States. While the cases of the coronavirus known as "COVID-19" have experienced a significant drop over the past few months, it is still circulating through the country and a mutated strain of it – identified simply as the "Delta Variant" is now rapidly spreading.
If you care for the elderly – whether in their home, a senior housing facility, an assisted living facility, in a nursing home, or another types of healthcare setting – continue reading to learn some very important facts pertaining to the variant.
What Is a Variant?
Before expounding on the relevant facts pertaining to the Delta Variant of the coronavirus, we feel it is first important to explain what a variant is – generally speaking. All of the viruses within the world mutate and they do so often; however, when this mutation actually changes the behavior of the virus, it is then classified as being a "variant".
Examples of common changes that would lead to this designation include becoming more contagious and/or have a higher lethal rate. The World Health Organization – also known as "WHO" – names the variants based on the Greek letters.
The Spread is Rapid
The first thing that you should know as a caregiver of the elderly is that the Delta Variant is spreading very rapidly. In just a matter of months, it has gone from being completely non-existent to being the virus responsible for most of the coronavirus cases in our country.
It is spreading so quickly that it is currently considered to be the dominant virus, accounting for three-fourths of all new coronavirus infections.
The Delta Variant May Result in Different Symptoms than the Original COVID-19 Illness
Currently, the most common symptoms associated with the Delta Variant include those that are common when a cold is experienced. These include a headache, a sore throat, runny nose, and a cough.
The symptoms most common with the original COVID-19 illness included loss of smell and taste, being short of breath, a highly persistent cough, and a fever.
It is important to understand, though, that this variant is relatively new and any symptoms may be experienced, including nausea, vomiting, fever, intestinal issues, and more. Those who are vaccinated seem to only experience mild illness or are asymptomatic.
The Delta Variant is Extremely Contagious
By July 22nd 2021, 80% of all cases that tested positive has the variant illness. This is typical of new virus strains. It is very common for new strains of an illness to be much more contagious than the original strain.
COVID Vaccines Are Providing Strong Protection Against the Variant Virus
It has been stated that the Delta Variant actually evades a little of the immune response that is created after receiving the COVID-19 vaccination. According to figures, the following is holding to be true regarding vaccinations: 
80% Effective in Preventing the Delta Variant
88% Effective in Preventing a Symptomatic Illness from Occurring
96% Effective in Preventing Hospitalization
Individuals Should Continue Wearing a Mask
Even if you are caring for a senior who has been vaccinated, it is advised that they should continue wearing a mask when around others. Remember, no vaccine is considered to be 100% effective in preventing illnesses and the Delta Variant is a virus that is considered to be highly transmissible.
Elderly Living and Care
If you are caring for an elderly individual outside of a medical setting and experience any type of illness, remember, there are elderly living and care facilities available. These facilities can provide respite care for the senior until you are able to resume the care.
They include assisted living facilities, memory care facilities, nursing homes, and senior daycare services. If you would like to learn more, contact us today here at Beacon Senior Advisors by calling: 973-713-0096 or visit us www.BeaconSeniorAdvisors.com