Your Guiding Light to the Best Assisted Living Facilities
Our Free Services Include...

Personalized Consultations
Experience tells us that no two situations are alike, so we spend one-on-one time with our clients, getting to know their individual challenges and needs.

Client Education
Making sure that all involved parties are aware of all of the options available for their situation is a very important part of the service that we provide to our clients.

Research
Each case may involve a myriad of medical, legal, financial and personal issues that require extensive research AFTER we have first taken the time to listen to you. We guide you to the best team of professionals for your situation.

Scheduling Visits & Tours
Once we've done the appropriate research we even schedule visits to, and accompany you on tours of, the facilities we have identified that may meet the needs of your individual situation.

Post-Placement Visits
Our job is not over after we've matched someone to a facility. Post-placement visits to make sure your loved one is thriving in his/her new home is another service we provide.
What Our Clients Are Saying About Us...
"We would like to thank Robert Petroro. We always felt that Mom was in good hands as Robert personally visited and checked up on all aspects of her care."
—Deb K.
"Thank you, Robert, for your caring ways and 'hands on' approach."
—Bev M.
"I don't know where to begin to thank you for all you did to help Mrs. G. As soon as I called on Wednesday afternoon, you swung into action and didn't stop until she was well settled and you were satisfied all was going well. Your personalized attention was particularly appreciated."
—Thomas P.
"Thank you, Robert. I think you folks did a great job and feel confident that I can always call on you if needed and that we will get good professional care."
—Barbara S.
The Certified Senior Advisor (CSA)® is the leading certification for professionals serving older adults, and is a designation awarded to qualified individuals. Earning the CSA certification requires individuals to pass a rigorous exam and to uphold the highest ethical standards for the benefit and protection of the health and welfare of seniors.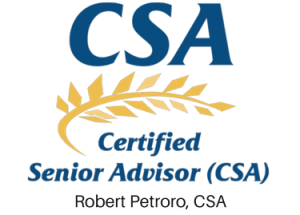 If you are ready to get started or just want to discuss the first steps, contact us today.
Assisted Living Locators Morris County
About Beacon Senior Advisors
It All Started with a Desire to Fulfill a Need
We here at Beacon Senior Advisors started with a desire to fulfill a need, a need that is becoming ever-prevalent in our society: A need to assist families in discovering quality care placement with the appropriate services for their senior loved ones who are facing challenges that arise during the aging process.
These may be physical challenges or challenges as a result of memory loss. Living independently, seniors may have difficulty taking care of household chores, preparing meals, participating in social activities, bathing, dressing, personal care and medication management.
Vision and Expertise, Couple with Experience
Our company originated with the vision and expertise of Robert Petroro, Certified Senior Advisor®, with in excess of 10 years of experience serving seniors and their families.
While working in corporate accounting, Robert had a strong desire to associate himself with an industry that would allow him to provide personal services to enhance and benefit the lives of others. Robert studied the needs of the expanding senior population and the lack of resources available to them. He discovered that there is a growing need for senior support services and he wanted to devote himself to filling some of those needs.
As a result, Robert left the corporate world and started Family First HomeCare. He built Family First HomeCare into a successful home care company serving the seniors of New Jersey. Now, with Beacon Senior Advisors, Robert is providing support services to seniors as they transition from independent living to Assisted Living.
Guidance for Seniors and their Families
Navigating the immense maze of senior housing options is a challenging, stressful and time consuming endeavor. In evaluating his characteristics, his personality, his heart, and his level of compassion, Robert knew he had what it takes to guide seniors and their families through this maze.
He wanted to help families find the best living arrangements for their senior loved ones and that is the basis of Beacon Senior Advisors. Robert has dedicated himself to the task and he has utilized his expertise to develop a system that alleviates the stress on families.
We have found that most families of seniors do not seek outside care until a crisis has occurred. Life-changing decisions often occur in sudden situations that are highly stressful – such as during or immediately after a serious illness or accident.
The burden falls on family members who may lack the time or expertise to evaluate Assisted Living Facilities for their loved ones, or those who simply do not know where to start or what to do.
Unlike other companies that simply provide a list of placement options to families, Beacon Senior Advisors is engaged and actively involved from the initiation of the process to the placement and beyond.
First, an assessment is performed. This gives Beacon Senior Advisors the ability to get to know you and your loved one. Knowing your loved one's needs, wishes, characteristics and personality is important to finding the right Assisted Living Facility.
Options are then provided to you. A Beacon Senior Advisor will arrange tours of the facilities, personally accompany you on the tours and guide you through the challenging selection process.
After your loved one has moved into his or her new home, we visit and follow up to help ensure a smooth transition. We provide quality customer service, compassion, and loving care from start to finish.
Beacon Senior Advisors offers you:
Senior Placement Experts
Personalized Support
Professionals with a High Level of Knowledge and Compassion
A Resource for Saving Time
Discover the Right Placement for Your Loved One
If you are ready to discover the right placement for your loved one, contact us today.
Call (973) 384-1177