Beacon Senior Advisors knows and understands how challenging it is to research residential facilities for senior adults – especially in the midst of a global pandemic. Since the arrival of the novel coronavirus, most businesses, organizations, and facilities have had to shut down public access.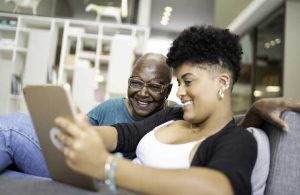 This is especially true of nursing homes, assisted living facilities, memory care units, and similar residential facilities. While it is true that this measure has occurred in order to ensure the safety of residents, it is also true that it makes it exceptionally difficult for families to research facilities for their loved ones.
This new virtual touring option takes away the challenge and opens up endless possibilities for individuals and their families in the process of discovering the perfect residential facility for their aging loved one.
COVID-19 has resulted in the insurgence of a digital uprising. More than ever before, individuals are working through technological means, receiving their education by computer or their mobile device, and engaging in a multitude of day-to-day activities online – such as shopping, ordering food products, and connecting with their loved ones.
This stems from the fact that the CDC has encouraged social distancing and utilizing virtual technologies in order to keep ourselves and loved ones safe from infection and the potential complications associated with the coronavirus.
We here at Beacon Senior Advisors feel as if researching residential facilities for seniors should be no different. In fact, even more precautions should be taken as our older loved ones are part of our world's most vulnerable population.
Our new virtual touring option will allow you and your family members to quickly and safely explore a vast variety of senior living communities – all from the safety and the comfort of your home. Our virtual touring option not only aids in helping families in the area connect to residential care facilities, it also helps the senior living facilities establish a connection with individuals who are in immediate need of their services.
It is the logical approach to providing families and patients with the ability to engage in live touring, connect with senior specialists who will aid in creating a personalized care plan, and transitioning seniors in a smooth and ordered fashion from the life in which they are accustomed to their new living experience.
Our virtual touring option provides families with a multitude of technologically advanced features. Examples include the ability to schedule at their convenience, comprehensive appointment reminders, comprehensive research materials, information about resources for their loved ones, and even automated alerts and news.
This virtual touring feature offered through Beacon Senior Advisors is designed to connect, educate, inform, and deliver. It has a high level of accessibility – making it user-friendly for all people, across all devices in which it is accessed. Furthermore, it provides a high-quality and highly-personalized experience for all who elect to employ its use.
Our virtual tours initiate with just one click. That one click will inaugurate you into a comprehensive process that will help you discover the perfect senior care community for your loved one. As our virtual tours grow, the options, features, and components associated with it will also grow.
This is the single tool that you need to uncover the type of facility that your loved one needs and to uncover that residential setting that will be perfectly suited for your loved one.
To learn more about our innovative and customized virtual touring experience, you may contact us today by calling: 973-713-0096