For many seniors, fall is a refreshing and enjoyable time of year. With the cool, crisp air and the leaves changing, it marks a time of celebrations and festivities.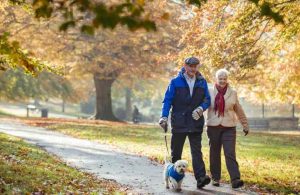 As the days become shorter and the nights take on a darker chill, it is still a wonderful time to enjoy long hours of fun, engaging activities that will lead in to the major holidays of the year.
It does not matter if you are a relative, a friend, or a caregiver, there are many fall-themed activities that you can enjoy with the older loved one in your life. Continue reading to learn more.
Exploration
The crisp air and the colors associated with autumn are two of the most enjoyable and significant aspects of the fall season. Exploration activities are truly enjoyable for the elderly.
These may include short, leisurely walks outdoors, a short scenic drive, or even an outdoor picnic. These types of exploration activities will allow the senior to witness the changing of the season and experience the beautiful, fresh air before it turns too cold and get some exercise.
Pumpkin Decorating
Many seniors experience limited mobility or range of mobility. As a result, it may be difficult to do the usual fall activity of carving pumpkins. However, decorating pumpkins instead may be something they can do.
Simply obtain a variety of pumpkins – ranging from small to large – and a few craft supplies. You may use glue, ribbons, paint, stickers, fabrics, buttons, and other supplies that are similar in nature.
In some instances, you may have to help with cutting, gluing, and other activities, but it will make for a wonderful time, nonetheless.
Fall Baking and Treat Making
When it comes to fall, one of the fondest memories that older adults have is of wonderful baked goods and sweet treats. So why not make some yourselves!
Examples include pumpkin bread, pie, sugar cookies, caramel apples, roasted marshmallows, eggnog, cinnamon spice coffee, mulled cider, and other treats.
Not only do these types of foods taste wonderful and really gear a person up for the upcoming holidays, many of them will evoke absolutely wonderful seasonal memories.
Socializing
Fall is the lead-in to Thanksgiving, Christmas, and New Year's. One of the most exciting aspects to all of these holidays is socializing. There are many events and activities that you can get older adults involved and allow them to enjoy the seasonal festivities while also enjoying the company of others.
These include Halloween costume parties, a bake offs, fall-related bingo and trivia nights, autumn arts events, and similar activities.
If your older loved one lives at home, there are many senior centers, assisted living facilities, adult day cares, and other facilities that will allow them to connect with others during the holidays.
To learn about these and our approach, you may call us today at: 973-713-0096