In Part 1, you learned why the senior population is more vulnerable to dehydration, the general rule of thumb on how much water should be consumed daily, and the symptoms of dehydration. In this guide, you will learn how to creatively approach hydration in the elderly. According to statistics, 75% of all Americans experience chronic levels of hydration.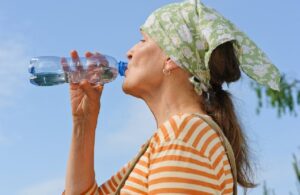 Up to 28% of older adults experience this issue. It is one of the most common causes of hospital admissions and has the potential to be fatal. Continue reading to learn how you can help an older adult get the fluids that they need. 
Water with a Twist
Drinking water is the best way to keep an older adult hydrated. Unfortunately, many seniors find water boring and unattractive. To make it more appealing, offer water with a twist. You could add fruit and other types of flavoring to the water.
There are water packets available that come in many flavors and do not include additional sugars. You may also want to experiment with water at different temperatures – cold, room-temperature, or a tad on the warm side. We all have our preferences. For example, an older adult – who is often cool – may prefer a warmer drink. 
Hydration Candy
In today's world, there are many types of candies available on the market that are designed to boost hydration. When attempting to ensure hydration for seniors, this may be an appealing approach. One of the most popular are the Jelly Drops that have recently hit the market.
These are 95% water, they do not contain sugar, they are vegan, and they include specially-added electrolytes. The texture is smooth and solid. The older adult in your life is sure to enjoy such a treat! They have no laxative effect and come in six different flavors. This is an excellent way to instantly boost hydration among older adults! 
Foods with High Water Content
The next way to ensure hydration in seniors is to provide the individual with foods that are high in water content. The adult does not have to just drink to stay hydrated. They can indulge in great-tasting foods to get some of the water that they need, too!
Top options include cucumbers, celery, iceberg lettuce, zucchini, watermelon, strawberries, cauliflower, cantaloupe, pineapple, peaches, oranges, broccoli, soup, plain yogurt, apples, and grapes! You can also provide the individual with soup, broth, and even skim milk! All of these favorites are loaded with water! 
Freezer Pops
The next strategy for encouraging water consumption among the elderly is to provide them with freezer pops. To make it easier for them to consume the pops, you may use a knife to scrape it into a bowl and give them a spoon to eat it with. There are electrolyte freezer pops, sports sugar-free freezer pops, and a wide variety of other types readily available on the market.
You can even make your own! If you make your own, it is advised that you integrate a sugar-free option for flavoring and add a bit of an electrolyte solution. For example, you could use a sugar-free water flavoring packet, water, and a tad of adult electrolyte fluid together. Then, freeze and serve! 
Conclusion
As you can see, there are many creative approaches to ensuring hydration for seniors. In addition to the ideas presented here, there are many over-the-counter products that you may purchase that taste great and will be appealing to the individual that you are trying to assist.
Examples include Voost Hydrate Fruit Punch Effervescent Tablets, Prime Hydration Sports Drink and Electrolyte Beverage, Honey Stinger Rapid Hydration Mix, Quench Hydrating Gum, and Ensure. If you would like to learn more about senior care or other topics, we here at Beacon Senior Advisors encourage you to check out our blog. You may also contact us direct by calling: 973-713-0096