In the State of New Jersey, there is an Adult Day Services Program available for those that suffer from Alzheimer's and other forms of dementia. It is a subsidized program that provides services for up to five days each week.
The sliding scale associated with the program ranges from 20% to a total of 100% of the costs associated with the service.
Caregivers may have additional days added by paying out-of-pocket or through other programs. You may find out more on funding by calling 1-877-222-3737. Continue reading to learn more.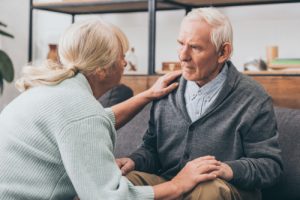 Who Is Eligible for the Program?
The following outlines the eligibility requirements for the day services program for dementia patients:
The individual must have a diagnosis of Alzheimer's disease or another type of dementia by a physician that is licensed to practice.
The patient must be at least 18 years old.
The caregiver of the patient must be uncompensated and 18 or older.
The individual must reside within the community and not in an assisted living facility or a skilled nursing home.
Income and asset guidelines must be met with documented evidence.
The patient must be considered a resident of the State of New Jersey.
The individual must not be enrolled in Medicaid, JACC, the Congregate Housing Services Program, or the Statewide Respite Care Program.
What Are the Financial Guidelines for the Adult Day Services Program?
If single or widowed, the patient may have a maximum annual income of $50,256. Liquid assets cannot exceed $40,000.
If married, the maximum combined income each year cannot exceed $58,632. The maximum for the combined liquid assets cannot exceed $60,000.
What Does the Program Provide?
The Adult Day Care Services Program for those suffering from dementia includes the following:
A minimum of five hours of care each day.
One full meal is provided; however, most centers will provide a very light breakfast with an additional full lunch.
There are programs and various activities offered. In most cases, these are based on the physical and the cognitive-based abilities of the individual.
If needed, transportation may be arranged and/or provided.
Support features and services are offered to the families of the individual suffering from dementia.
All staff is specially-trained on the concept of managing patients with dementia.
Where Is the Program Offered?
Currently, there are agreements with a total of 29 different day care centers that span across a total of 16 counties in the State of New Jersey. The good news is, patients do not have to attend a center that is located in the county where they reside.
They may attend the center closest or where their caregiver prefers. An application for the program may be completed at the center where the individual will attend the program.
If you would like assistance in locating centers that offer this service or with other senior care topics, memory care, etc. contact us here at Beacon Senior Advisors today by calling: 973-713-0096