While residential memory care facilities are similar in that they offer specialized care for individuals that suffer from Alzheimer's disease and other forms of dementia, each community is unique. The differences lie in the way that the day-to-day operations are handled, the technology that is utilized within the facility, the care services provided, and the staff that is employed at the facility.
Your loved one is unique. They have their own unique needs and require unique levels of care. In order to choose a residential memory care facility that is appropriate for your loved one, there are many considerations to be made. In this brief guide, we will explore those.
Questions That Should Be Answered Regarding Your Loved One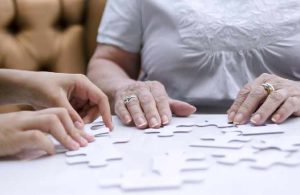 The first step in selecting the best memory care residence for your loved one is to ask yourself a few questions about them. The following outlines a few that will help you determine what your loved one needs, based on the symptoms that they experience, the assistance that they will require, their underlying medical conditions, and their capability to perform certain tasks on their own:
Is your loved one moody, aggressive, or do they suffer from a type of behavior issue that could pose a danger to themselves or to others?
Is it common for your loved one to wander frequently or to become lost?
Is there a mobility issue that impedes their ability to safely move from one location to another independently?
Will your loved one need assistance in eating, drinking, and/or attending to hygiene needs?
Will your loved one need to have regular medical attention and/or treatments for an underlying medical condition?
While these are not all of the considerations that should be made when considering the unique needs of your loved one, they are very broad and a great start to assisting you in determining exactly what type of residential setting will be best for your loved one.
Questions to Consider in Terms of the Memory Care Facility
Once you have noted gathered regarding the unique needs that your loved one has, it is time to start researching facilities. There are vast numbers of questions that should be asked. To simplify the process, consider focusing on the following:
What is the education, experience, and level of involvement of the staff that will be caring for and working with your loved one?
Is the facility and those that work within the unit fully accredited?
What safety measures are used in and around the facility to protect staff, patients, and to prevent wandering and other common behaviors associated with the various forms of dementia?
What types of specialized care and services are offered to the residents?
What policies govern the facility?
Are there special types of memory care treatments offered, such as music therapy, light therapy, or pet therapy?
What types of living arrangements are put into place?
What amenities are offered at the facility?
What features – such as fitness areas, escorts, and outdoor recreational areas – are offered?
Does each patient receive their own unique care plan and is it followed?
Take the Work Out of the Task
Choosing a residential memory care unit is a challenging endeavor. Going from one facility to another is an exceptionally daunting task that could leave you feeling even more overwhelmed. The good news is, we can help take the work out of the task.
We here at Beacon Senior Advisors will meet with you to determine the individual needs of your loved one and will work to ensure that they are matched with a residential community that is well-suited for them. If you would like to learn more, simply contact us today by calling: 973-713-0096