When a loved one needs help in their day-to-day lives, there comes a point where family members must make a choice. That is, should in-home care be provided or should their loved one be placed in assisted living.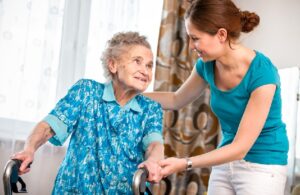 Choosing between the two options involves many factors and considerations – all of which are either personal, financial, and have a direct impact on the health and safety of the loved one.
In this guide, we will outline the 3 main factors that should be considered to determine if in-home care or assisted living is the best option. 
How Much Help Is Needed?

 
First and foremost, you should carefully ponder just how much help that your loved one requires. Determine what they need each day, week, and month. Write is all down. Then, write down who can help with what. Look at the big picture.
If you find that your loved one needs more help than is possible to achieve while allowing them in place, you may want to opt for assisted living rather than in-home care. This is a decision that only you, your family, and your loved one in question can make. 
What Is the Financial Situation?

 
Next, you should determine your loved one's budget. Both in-home care costs and costs associated with assisted living are a bit on the hefty side. You should also determine what can be covered by your loved one's insurance coverage.
If their coverage is limited, most often a lot of hours each week for in-home care may not be covered, but there is coverage for assisted living, and vice versa.
You will need to figure out if copays are required and on what. The average in-home care could be as much as $4,500 a month. The average monthly price for assisted living could be up to $4,300. 
Weigh the Pros and Cons
There are pros and cons with both in-home care and assisted living care. In in-home care – for example – they will get individualized care, age in place, and spend more time with their family.
The disadvantages are in-home care may prove to be very costly, it is not around-the-clock care so an in-home caregiver should be available, the home may require modifications, and assistance will be needed for cleaning, lawn work, grocery purchases, and more. 
In assisted living, the pros include 24/7 care, housekeeping, transportation to appointments, medication management, social interaction, activities, assistance with activities of daily living, meal preparation, and more.
The cons include frequent changes in staff, not being able to be around loved ones as much, limitations in the care unless a personal aide is hired, and even the quality of care. 
Conclusion
As you can see, it is difficult to decide which is best – assisted living or in-home care? We here at Beacon Senior Advisors know and understand the challenges that you are facing. We offer free services to help you in making the decision.
Once you make your decision, we are able to provide you with resources to help your loved one. If you would like to learn more or want to set up a free appointment, contact us now by calling: 973-713-0096