There are many distinct differences when it comes to memory care and assisted living. While it is true that memory care is very similar to assisted living, it provides a higher level of specialized care and direct support for patients that are suffering from any type of progressive-based memory impairment.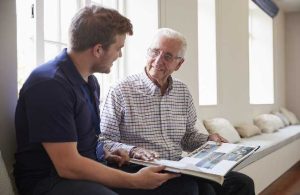 These special care units are a type of long-term residential skilled nursing unit that places a focus on patients with memory problems and tailors their services, accordingly. Memory care provides 24-hour supervised care, usually on a separate floor or wing of a residential facility. The staff that works within a memory care unit is trained to care for those that have forms of dementia.
What Is the Cost Difference Between Memory Care and Assisted Living?
Regardless of what type of facility a person enters, there are many factors that directly impact costs. Generally speaking, because of the intense specialized care that is offered in memory care, it costs more than assisted living.
Average costs of assisted living rank in at about $4,000 a month; whereas, memory care averages approximately $5,200 a month. There are insurances and programs available that helps to reduce the amount is owed by a patient or the responsible party for the patient, such as a Guardian.
For example, if an individual is on Medicaid or Disability, they may be able to pay as little as $1,800 for memory care and $1,500 for assisted living -it all depends on coverage amounts associated with the patient requiring care.
Do Memory Care Units and Assisted Living Facilities Both Manage Patient Medications?
All patients in memory care units require their medications to be managed by the staff. Due to their memory issues, they will not be allowed to oversee their own prescription regimen. In terms of assisted living facilities, there are those that allow patients to keep and manage their medications. Then, there are those that oversee prescription management.
It all depends on the state laws where the facility is located. If you are in need of medication management for a loved one, you will need to inquire directly to the facility that you are considering if your loved one will be in an assisted living facility. If your loved one requires memory care, yes, their medications will be appropriately managed. 
What Are the Physical Differences Between Memory Care Units and Assisted Living Facilities?
Memory care units take special care in the architectural designs. The designs reflect the special needs of the individual with dementia. There is a high level of security in memory care units due to the need to wander that many dementia patients experience.
The units are often designed to promote a sense of relaxation. Colorful paints are often utilized and there are typically areas that have large amounts of natural light. Assisted living facilities are set up similar to apartments. They also allow patients a higher level of freedom, in terms of their movements. There is less supervision.
Need Help Deciding?
We here at Beacon Senior Advisors know and understand how difficult it is choosing the right residential setting for your loved one. If you need help deciding, we are more than happy to assist you. Our services are comprehensive and completely free! For more information, contact us today by calling: 973-384-1177