If you have a loved one that is in need of long-term care, one of the most pressing matters of concern is likely the cost of that care. In fact, for most families, this is a key consideration.
Senior care is an intense financial burden. According to a survey regarding cost of care, the median price of assisted living averages in at just over $4,000 a month.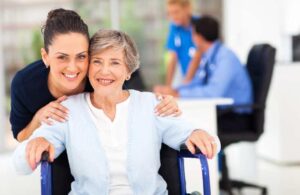 For skilled nursing care at a nursing home, it could exceed $8,000 a month. The good news is, though it may seem overwhelming and beyond reach, there are ways to successfully navigate the costs of long-term care. 
Long-Term Care Options and Their Costs
The following outlines long-term care options and the average costs, according to data derived from numerous studies:
Independent Living – There are many communities available to seniors who are able to live on their own. The services included in independent living communities usually includes high-quality meals, transportation, housekeeping assistance, activities, and even outings. These communities do not typically offer help with the activities associated with daily living, but if a senior needs a little extra help, it may be obtained for an additional cost. The costs depend on the location, the amenities that are offered, and the size. The average costs are approximately $2,550 a month.

 

Assisted Living – This type of long-term care offers assistance to those that require it – such as help in bathing and in getting dressed. In most instances, medication management and the monitoring of a health condition or conditions is offered. This care provides meals, housekeeping, social activities, and more. The average cost for this type of long-term care comes in at about $4,420 a month.

 

Memory Care – This type of long-term care is designed for those that have various types of dementia or impairments involving the memory. It offers person-centered care in an environment that is safe and prevents wandering. The activities and therapies offered are specially designed for enhancing the memory and optimizing the patient's quality of life. This option also provides meals, housekeeping, assistance with personal care activities, and medication management. The average price per month for memory care long-term care for seniors is approximately $5,200 a month.

 

Nursing Home Care – This type of long-term care is appropriate for those who have a serious illness or serious health problems. These facilities also offer short-term care. Included are around-the-clock nursing care, personal care, medication management, housekeeping, social activities, various types of therapy and rehabilitation programs, palliative care, and hospice care (when needed). The average cost of this type of care is $8,000 a month for a shared room and over $9,000 a month for a private room.

 
Creative Solutions for Paying for Long-Term Senior Care 
Despite the fact that these costs are overwhelming, there are usually strategies for making long-term care affordable.
Examples include purchasing long-term care insurance plans, selling a life insurance policy to fund care, borrowing against a life insurance policy, using your loved one's property to generate funds, having a Health Savings Account (HSA), Medicare, Medicaid, Veterans benefits, and other techniques.
For assistance in determining what type of long-term care your loved one needs and how to obtain the funds for that care, contact us immediately at Beacon Senior Advisors for FREE assistance by calling: 973-713-0096