If you are wondering what the differences are between independent living vs assisted living, you are not alone. It is quite likely that you have a concern over the health and safety of an elderly loved one.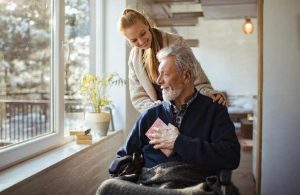 Right now, they are likely living in their home or with someone else, in a non-medical, professionally unsupervised environment. If you are conducting this research, you are probably trying to research various senior placement options to determine which is best for your loved one.
Many individuals are confused as to what the main differences are when it comes to independent living vs assisted living. In this brief guide, we will provide you information on this topic.
Senior Living – At a Glance
Senior living often comes with its own language, policies, guidelines, and rules. If you are looking into the various options available for your loved one, you may find the experience very challenging.
When it comes to independent living vs assisted living, the good news is, both of these can aid in fostering a high level of independence. They will help your elderly loved one live a longer, happier, and healthier life. Additionally, they both aid in alleviating caregiver stress levels.
While it is true that your loved one has the capability of living in their own apartment, condo, or room with each of these choices, there are distinct differences between the two that should be factored into your decision. Below, we will outline these main differences.
The Services and Amenities Offered
Independent living is focused on ensuring the senior leads an active life and has access to amenities and services that are considered to be convenient. There is no medical care or any type of nursing support provided in independent living environments.
In some senior independent living communities, there are contracts or deals worked out with in-home care providers that will aid your elderly loved one in obtaining support and services that they require, while ensuring that they remain as independent as possible.
Assisted living are highly structured and provide the senior with the support that they require. In most instances, these are set up to where the patients live in close proximity to one another – be it an apartment or a room – so that help may easily come when needed.
Seniors have the ability to get help in cleaning, meal preparation, shopping, medication management, hygiene activities such as bathing, and setting up and keeping appointments made with medical doctors and/or specialists. If the senior needs help, they typically have the ability to simply push a button and it will be rendered because there are staff on duty 24/7.
Care Services
In reviewing independent living vs assisted living, it is important to consider the medical care and the support care services that your loved one requires. Independent living does not provide this type of care, whereas, assisted living does.
Most – without serious underlying medical issues -will do very well in an independent living environment. If your loved one has more serious health issues, are unable to handle their basic needs, is not capable of making sound decisions, or are incapable of functioning all on their own, assisted living placement is the best option for their individual needs.
Independent living vs Assisted Living Pricing
In terms of pricing, independent living is typically cheaper than assisted living placement. This is because it is not a type of senior care, but a lifestyle preference. Insurance does not cover independent living. Assisted living is priced based on the services that are provided, so it is a bit more costly.
he good news is, assisted living is usually covered by insurance that offers long-term care provisions, benefit programs offered by employers, and even Medicaid. However, in order for assisted living placement to be covered by insurance companies, a prescription or a medical-based order is typically required.
Contact Us Today
Now that you are familiar with the main differences of independent living vs assisted living, you are likely better equipped to make the choice as to which is best for your older loved one. However, if you are still unsure, we here at Beacon Senior Advisors are capable of assisting you.
This is a free service for you and your family. We work closely with you to discover the highest-quality care placement for your loved one, based on their unique needs. Simply call us today for more information: 973-713-0096