If you are reading this, chances are, it is time for your older loved one to be moved to a memory care unit designed for individuals suffering from various forms of dementia. No, we do not know your situation. We are not familiar with your loved one. Nor do we know any details about their medical history or yours.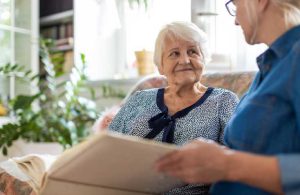 We do know this though…if you are looking into it and are inquiring about it, it is likely time to seriously consider placing your loved one in a memory care facility. We know you have questions, though, and want to learn as much as possible.
For those reasons, we have created this guide – to assist you in making the right choice for your loved one.
What Is Memory Care All About?
Memory care is designed to provide housing and around-the-clock care for patients that suffer from various forms of dementia, such as Alzheimer's disease. These uniquely-designed facilities offer a safe environment for their residents. The focus is to reduce confusion, prevent the issues that stem from wandering, and improving the overall quality of life for the residents.
How Are Memory Care Units Different from Other Types of Senior Care Facilities?
The features and the services of memory care units are different than other types of senior care facilities. They offer a secure environment, specialized staff that are trained in memory-related illnesses, therapies that focus on enhancing the memory, medication management, housekeeping, assistance in personal care, and assistance to those that suffer from mobility complications.
Laundry, meals, complimentary transportation, and incontinence care are also offered at memory care facilities.
What Are the Main Benefits of Memory Care?
There are several unique benefits associated with memory care. The main ones include the fact that the services offered are intended to help residents maintain the skills that they possess for as long as possible.
Enriching programs and activities are offered that aid in stimulating the cognition. The following are also highly beneficial:
The environment is locked and monitored so that the residents are as safe as possible.
All of the on-duty staff members are specifically trained in dementia care.
The facility offers therapies that are designed for the dementia patient.
The layouts of the memory care facility are well thought out and designed so that patients do not experience continual confusion.
Care is carefully coordinated with other health care providers to ensure that each patient is as safe and healthy as possible.
Person-Centered Care
Memory care facilities offer person-centered care for individuals that are suffering from dementia. If you are in search of a facility that takes your loved one's preferences, past, and abilities into consideration, memory care is for you. The staff in these units develop relationships with each of their patients and their loved ones.
To learn more about memory care and how to create a customized care plan for your older loved one with dementia, contact us today at Beacon Senior Advisors by calling: 973-713-0096