If you are reading this, it is quite likely that you currently serve as a caregiver of a loved one that has been diagnosed with dementia. We know and completely understand the difficulties that you face – watching and experiencing the cognitive decline of an individual that you love.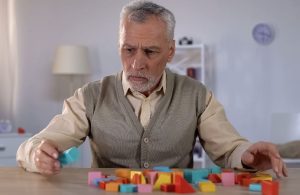 While dementia includes a wide range of symptoms, psychosis has been determined to directly affect at least 50 million people living with the condition. In most instances, doctors refer to this as "psychotic episodes".
In this brief guide, we will share information on dementia-related psychosis so that you may determine if this is something that your loved one is currently experiencing. 
What Is Dementia-Related Psychosis?
Psychosis is a complication that may be experienced by a dementia sufferer. It describes a mental state where an individual does not have a certainty to that which is real or that which is not real. It often includes thoughts that are delusional, paranoid, and may even include hallucinations. 
What Causes Dementia-Related Psychosis?
There are several factors that may go into determining if a dementia patient will experience psychosis. These include:
Dementia Type
Dementia Stage
Risk Factors or Health Conditions
In some sufferers, psychosis will occur in the advanced stage of the dementia. In other instances, psychosis may be one of the first symptoms that are experienced. Current studies indicate that the causes may be related to either atypical deposits or plaque deposits that form on the brain.
Individuals that take medications that increase the amount of dopamine in the brain may suffer from psychosis. Finally, many researchers believe that it stems from the continual changes that occur within the brain among dementia sufferers. 
Signs of Psychosis
Each person that experiences dementia-related psychosis will do so in a different way. No two experiences are alike. The most common signs of this type of psychosis includes the following:
Visual, Auditory, and Even Olfactory Hallucinations
Depression
False (Delusional) Beliefs
Irrational Suspicion (Paranoia)
Agitation or Irritability
Aggression
Management
The good news is, there are some management techniques that appear to be promising for those that suffer from dementia-related psychosis.
These include making adjustments to the person's living environment, not challenging the sufferer's beliefs, ensuring that the patient is active and regularly engaged, and the introduction of certain types of prescription medications – such as selective serotonin reuptake inhibitors and antipsychotics.
As a caregiver, it is imperative that you ensure your safety and the safety of your loved one during psychotic episodes. 
We Can Help
If you find that caregiving is becoming challenging or that it is difficult to help your loved one with dementia-related psychosis, you will be pleased to know that there are other environments where the individual may be placed. These include assisted living facilities, nursing homes, and even memory care facilities.
Not only will your loved one be monitored and cared for around the clock, the medical professionals will be able to observe the psychosis to ensure the best treatment possible.
If you want to learn more about safe living environments that may help your loved one experience comfort and a high quality of life, contact us here at Beacon Senior Advisors today for more information by calling: 973-713-0096