It does not matter if it is an assisted living facility, a memory care facility, an area designed for independent living, or a residential facility, it can be quite concerning to have your loved one be in these types of living institutions during the COVID-19 pandemic.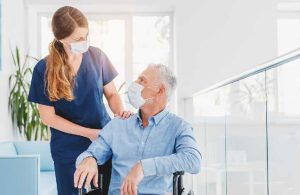 It is a known fact that quite a few individuals have contracted the virus through these settings in the year 2020. In many instances, though, you may not have the choice. Either your health is compromised to the point that you can no longer care for your loved one or your loved one requires more care than you are able to provide.
The good news is, we now know more about the coronavirus and that facilities are not only prepared to protect your loved one but have response guidelines in place that will keep your loved one safe.
Inquire About Protocols
Before placing your loved one in a facility, you will need to conduct a little research. When evaluating the different facilities that are appropriate for your loved one's needs, inquire as to whether or not they have created a plan that aids in infection prevention and the control of infections.
If so, you will likely discover that there are trained personnel working at the facility that are responsible for the management of such a plan. By now, most all residential living facilities have these protocols in place; however, for your own peace of mind and for the peace of mind for your loved one, you should learn as much as you are able to about these management plans.
You should also inquire about any protocols related to your loved one's personal belongings. Are there limitations regarding the handling of those items? Are there cleaning and sanitation measures put into place that will ensure that germs are completely eliminated from those items?
While asking about cleaning and sanitation measures regarding personal belongings, you should also ask about cleaning and sanitation measures pertaining to the room where your loved one will reside, the restroom and shower area that they will utilize, as well as other areas in the facility where they will come in contact with others – such as the cafeteria, the outdoor social area, and the recreational area.
Visiting Guidelines
The next area that you should research are the visiting guidelines for the facility. Were visitors originally prohibited? If yes, are they still prohibited?
If visitors are allowed into the facility, are they screened for COVID-19 through questionnaires and temperature checks?
If visitors are allowed, you should find out how many are permitted, the times they are permitted, and the areas where they are allowed. This will be very important to know in the event that your loved one is admitted to the facility.
The Goal
When moving your loved one to a residential care facility during the pandemic, the goal is to ensure that they will be as safe as possible once in the unit. Additionally, you will want to make certain that you have some degree of interaction with your loved one as social isolation and lack of stimulation could be detrimental to your loved one's general well-being.
We here at Beacon Senior Advisors can assist with this endeavor. Our approach is to meet with you and your loved one, determine their needs, and conduct the research to ensure proper placement. If you would like more information, you may contact us today by calling: 973-713-0096