May 6th through 12th, 2019, is National Nurses week. They are vital professionals to all of us, in particular to the seniors in our communities.
In most instances, nurses are identified as the "unsung heroes" in our exceptionally large and comprehensive health care system.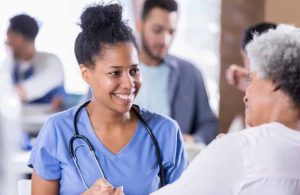 These specially trained medical professionals deliver their care in a wide array of settings. These include hospitals, doctor offices, dental clinics, assisted living facilities, nursing homes, and in private residences.
Nurses not only provide patient care, they aid in the support of their patient's loved ones and caregivers. In senior care, nurses have many responsibilities.
In this guide, you will learn about the critical role they have while providing care to our aging population.
The Establishment of Care Plans
When seniors live in memory care communities, assisted living facilities, and nursing homes, they are provided with a care plan. Nurses are often the leaders in creating these plans.
They work with others in the health care community to create a plan that is designed to meet the needs and interests of each resident. When needs change, they revamp the care plans to accommodate the new needs of the patient.
Managing Medications
The next role that a nurse plays in senior care is appropriately managing medications. In most instances, seniors have anywhere from five to seven different medications that must be taken on a daily basis.
Nurses fill prescriptions, handle refills, and provide the medications to patients at the appropriate time each day. Additionally, they aid in observing adverse reactions.
Monitoring of Chronic Conditions
Resident wellness is a top priority for today's nurses. When an older adult suffers from a chronic health condition – such as high blood pressure, dementia, or diabetes – they need to be constantly evaluated for changes.
If changes occur, the care plan must be adjusted, new medications or new dosages of current medications may be needed, and/or supplemental treatments may be required. Nurses will handle all of this.
They work hand-in-hand with doctors to take intervention steps to ensure that chronic conditions do not result in becoming a life-threatening condition.
Patient Comfort
Nurses that work in memory care communities, assisted living facilities, and nursing homes are also responsible for the comfort level of the patients that reside in the community.
They may assist in changing bedding, feeding the patient, cleaning the patient, the transport of patients, and other tasks. These are referred to as the "Activities of Daily Living".
As a person ages or advances in a chronic health condition, they often require additional help to take care of themselves. Nurses place a patient's comfort as a top priority.
Senior Care at its Best
There are many types of nurses that work in the medical community. These include RNs, LPNs, CNAs, and others. They all play a critical role when it comes to caring for our aging population.
If you are in a position where you require nursing care for your loved one through assisted living placement, a nursing home, or memory care unit, you can rest assured that the team of nurses assigned to your loved one will provide the highest level of care and ensure their comfort.
Thank you to our Nurses for all that you do!
Robert Petroro of Beacon Senior Advisors is experienced in building a team of professionals to help your senior loved one with all of their care and safety needs.
If you would like to learn more about our FREE services, have a desire to connect to an advisor, simply contact us today by calling us at 973-713-0096 or by visiting our website: www.BeaconSeniorAdvisors.com
You May Also Like