While it is true that many enjoy the winter months due to the cooler temperatures, the glistening snow, the bright, beautiful nights as the moon hangs gloriously over the hills, and the enjoyment of the holidays, it can be exceptionally difficult for aging populations.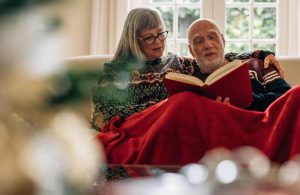 Many challenges and risks occur during the winter months that could detrimentally impact older adults. If you are reading this, you are taking the first steps to ensuring that your loved one is prepared. In this guide, you will learn a few measures that can ensure that your loved one is as safe as possible this winter.
Health Concerns
Based on information derived from the Center for Disease Control, approximately one-third of all older adults that are – at least – 65 years of age experience at least one fall each year. This risk drastically increases during the winter months as a direct result of the environmental elements that occur.
Additionally, older adults are more at risk for the development of hypothermia. This stems from the fact that the ability of the body to sense colder temperatures and regulate their body temperature lessens as we grow older.
Older adults are also more likely to suffer from stroke, severe bouts of arthritis, hypothyroidism, nerve damage within the extremities, and Parkinson's disease – all of which may be more severe during the winter months.
Keeping Warm
The number one goal when it comes to helping your older loved one prepare for the upcoming winter months is to ensure that they are able to keep warm. They should dress in warm layers. Additionally, you should make certain that they have some type of protective head wear that helps maintain warmth on the head.
The shoes should include soles that are identified as "non-skid" and have a lot of traction support. If your loved one must go outdoors, they should walk around on the inside prior to leaving the home so that the muscles are warmed up and the circulation is increased.
If your loved one will reside within their home, you should take the following steps to ensure that they are as warm as possible when the outdoor temperatures drop:
First, all doors and windows should be evaluated for cracks and drafts. If any are discovered, the issue should be resolved as quickly as possible.
If you set the thermostat, it should be kept at approximately 65°F or higher.
The heating unit that warms the home should be thoroughly evaluated and maintained to ensure proper functionality.
Personal Safety
The next step that should be performed is ensuring your loved one's personal safety. You may take the following steps:
Install handrails throughout the home so that balance may be maintained.
Remove rugs and other tripping hazards throughout the home.
Replace batteries and test all smoke detectors, phones, and carbon monoxide detectors throughout the home.
Stock up on food and emergency supplies in the home.
Ensure all assistive devices are maintained and working properly.
Assisted Living Placement
If you are not comfortable with your loved one being on their own this winter, you may transition them into an assisted living facility that is designed for health and safety. We here at Beacon Senior Advisors can assist you with the task.
If you would like to learn more on assisted living placement and the many benefits it will provide to an aging loved one, you may contact us directly