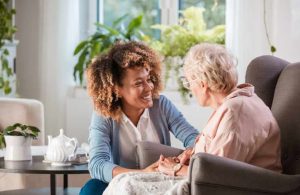 Caring for a loved one is a challenging endeavor. It is physically, mentally and emotionally exhausting.  In order for the caregiver to remain strong enough to care for their loved one, the caregiver must take care of their own needs – and that includes taking frequent breaks.
What is Respite Care?
Respite care allows caregivers to take a break.  Respite care can be provided at home or inpatient – on a short term basis-for individuals whose loved ones need a bit of relief.  There are several instances in which respite care is deemed necessary:
When the caregiver experiences an illness or injury that prevents them from caring for the patient.
When the caregiver is experiencing any type of exhaustion – be it physical or mental – from caring for the patient.
When the caregiver wants to attend an important event – such as a wedding or a funeral.
When the caregiver wants/needs a vacation.
Respite Care Providers
There are many different types of respite care providers. These include home care and inpatient care at nursing homes, hospice facilities that offer inpatient care, and assisted living facilities. In most cases, respite care covers a period of a few days up to 3 months.
This varies based on the needs of the patient, the needs of the caregiver, and the type of facility where the patient is placed. When the patient is placed with the provider of respite care, they will be monitored, and provided with the same level of care that they normally receive. 
Beacon Senior Advisors
If you are a caregiver of a loved one, chances are you need a break. Even if just for a day, breaks are imperative for your own mental, physical, and emotional well-being. We here at Beacon Senior Advisors work closely with a variety of facilities and can help you to find the best place of respite for your loved one.
For more information on respite care, contact us today by calling: 973-713-0096 or visit us at www.BeaconSeniorAdvisors.com