The secret to ensuring the proper care and management of a loved one that has underlying health conditions, is elderly, or a combination of both is to thoroughly research and assess long-term care facilities.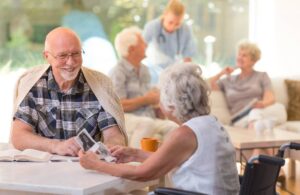 Many skilled nursing homes that offer availability have a wide range of complications ranging from staff shortages, limited amenities, and unsanitary conditions.
Placing your loved one in a nursing home that is experiencing complications could actually prove to be counterproductive. However, by knowing how to assess long-term care facilities, you can quickly discover one that is perfectly suited for the needs of your loved one. 
Utilize Online Resources

 
Years ago, one who wanted to learn about long-term care facilities would have to visit one of the regulatory offices in their state to learn more about the homes. Now, this can be done online – with just a push of a few buttons and the click of a mouse.
You may use the online tool offered by Medicare, the website called Nursing Home Inspect, and NursingHome 411 to learn about the staffing quality, the inspections done at the facility that you are interested in, vaccination rates, and more!
You should write down any and all facilities that you want to research and then utilize online resources to narrow down the best from the rest. 
Do an In-Person Visit

 
If you are interested in certain long-term care facilities for your loved one, you should conduct an in-person visit. While it is tactful to call ahead and schedule an appointment for your visit, you will likely get a more accurate picture of the facility by making an unannounced visit.
When you arrive, converse with all levels of staff. Pay special attention to the grooming of the residents, the cleanliness of the facility, the menus, the activities, how long it takes for staff to report to a call light, and the interactions between staff and residents. ALL of this will give you a good idea as to what type of facility you are visiting. 
Focus on Those in Close Proximity to Your Residence

 
You should choose among long-term care facilities that are close to your residence. This way, it is easy and convenient for you to visit your loved one on a regular basis.
Not only will this make your loved one happy, it will keep the staff on alert to ensuring that they are doing what they are supposed to be doing as they know that all guests scrutinize the care that is being provided to each of the residents while in the facility. 
Focus on Preventative and Safety Measures
When researching long-term care facilities, pay attention the preventative and safety measures that they engage. Examples include infection control, air quality, hygiene, mitigation, and vaccination rates. 
Get the Help of a Senior Care Advisor

 
Many people do not realize it, but senior care advisors are very helpful in finding a suitable long-term care facility for their loved ones. On top of this wonderful service, most do not charge for their services.
By working with a licensed advisor, you can receive assistance in finding high-quality care placement that includes top-quality services for your loved one.
For more information and to connect to a senior care advisor now, contact us here at Beacon Senior Advisors now by calling: 973-713-0096