As the cases of confirmed coronavirus COVID-19 cases continue to spread rapidly across the United States, concern for our health and that of our loved ones' is understandably, exceptionally high. This is especially true for older adults, due to the fact that they are more vulnerable to the virus and they have a higher risk for experiencing complications.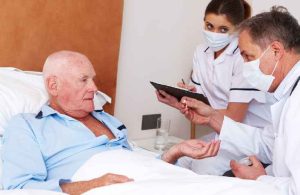 This concern has heightened immensely for those living in congregate-based settings, like assisted living facilities and nursing homes. You will be pleased to know that long-term care facilities are taking numerous steps to protect their residents. In this guide, you will learn about these measures.
Preparedness Measures
The Centers for Disease Control and Prevention (CDC) has created a special checklist that long-term care facilities are now utilizing to assess and optimize their general level of preparedness for directly responding to the novel coronavirus that is rapidly spreading.
In turn, this checklist is helping these facilities in developing sound response plans that will be used to protect patients, health care workers, and others that visit, work in, or work around long-term care facilities.
The following measures outline those that are under current review and being addressed immediately:
Taking stock of all medical supplies, food inventories, toiletries, personal protective equipment, and other resources within the facility.
Providing comprehensive training on rapidly identifying ill patients and the quick and effective management of those individuals.
Identifying special considerations for medical staff, consultant staffing, residents, and those that initiate visitation at the facility.
Evaluating occupational-based health considerations, such as ensuring the placement of personal protective equipment, sanitation, and sick leave policies.
A careful evaluation of surge capacity and making adjustments to heighten that capacity – in the event illness occurs. Examples include having health care workers on standby, the creation of isolation or "sick rooms", and/or integrating any special equipment to aid in the treatment, comfort, and recovery of sick residents.
Infection Prevention and Control Measures
If coronavirus COVID-19 cases are present in the community of a long-term care facility and/or identified in the facility itself, there are several measures being put into place that aid in the prevention of infections and infection control.
These measures stem from the direct guidance of the CDC. They are as follows:
Long-term care facilities may choose to restrict all types of visitation on a temporary basis. If – at their choosing or on the approval of experts – a resident is in a situation where the end of life is near, the facility may make an exception to this rule. This is referred to as a "compassionate care situation".
The facility may elect to restrict people who work in the facility as non-essential personnel or on a voluntary basis from entering into the facility or having direct contact with the patients of the establishment.
The long-term care facility will cancel all activities that require individuals to gather into groups.
The establishment will put a complete stop to communal dining and make the dining experience more personal for the patient in order to create a higher level of safety.
The nursing home or assisted living facility will utilize active screening techniques for both those that reside at the facility, those that work at the facility, and those that visit the facility. Examples include observing for respiratory-based sicknesses and checking to see if the individual/individuals have a fever.
The facility will place alcohol-based sanitizer in and around rooms, resident care areas, and other areas where residents gather. If these products become unavailable, all sinks will be well-stocked with soap and hygienic paper towels for handwashing.
Tissues and other items that may be safely used will be provided to residents in the event that they must cough or sneeze. If available for distribution, face masks may be provided.
Many facilities will implement a respiratory-based protection program that comes with compliance by OSHA. Many of these programs will utilize in-house respirators; however, the facility must have essential health care personnel that are trained, fit-tested, and have a medical clearance for the implementation of this type of program.
All surfaces and equipment will be cleaned with disinfectant substances that are considered to be "hospital-grade".
All residents will be consistently monitored for fever, respiratory symptoms, and any other signs of illness. If illness is identified, that person will be isolated and treated within the facility. If they require a higher level of care, they will be transferred to a facility that is capable of providing the necessary level of care.
Peace of Mind
Now that all long-term care facilities are taking all measures possible and more is being learned about the coronavirus COVID-19, it should give loved ones a bit more peace of mind.
While it is true that the virus is still invading many long-term facilities, it is believed that this stemmed from the initial issues in COVID-19 testing. Now that testing is able to identify infections quicker, it is likely that long-term care facilities will be better capable of preparing and limiting infections.
If you have a concern about a long-term care facility where your loved one is located in New Jersey contact us here at Beacon Senior Advisors by calling: 973-713-0096