While research is well underway on the coronavirus discovered in December of 2019 in Wuhan, China, COVID-19, there is still much to be learned about the disease.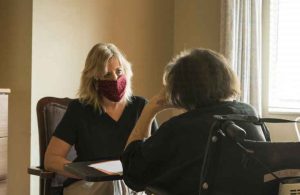 To date, infectious disease, pathology, and virology experts do not believe that dementia increases one's risk of developing the virus; however, it may be that behaviors that develop from having dementia, a patient's age, and underlying health issues could increase the risk for development.
A dementia patient may forget to wash their hands, for example. Additionally, the development of the infection could lead to increased cognitive impairment. As a caregiver, you face many challenges with the dementia. In this guide, we will provide tips on how to get through the coronavirus pandemic when providing care to a dementia sufferer.
Take Note of Increased Confusion
By now, you likely know and understand that when a dementia sufferer starts to get sick, they will often experience heightened bouts of increased confusion. Pay close attention to the patient and if they start to experience rapid cognitive decline, take note.
If the sufferer is not experiencing signs of an immediate emergency, you may contact their doctor for guidance. If they start to experience a high fever, or if it seems as if they are unable to breathe easily, seek emergency medical assistance right away.
If a doctor deems the patient's symptoms to be "mild", they may recommend staying away from others for a couple of weeks. If they determine that a prescription is needed, they will likely just submit it to a pharmacy. The route that a doctor takes will be based on the individual's health history, any underlying medical conditions that they have, and the severity of their symptoms.
Make Preparations
If you care for a dementia patient that is enrolled in adult day care or any type of respite care, you may want to make other arrangements during the outbreak.
If you are unable to make alternative plans, you should contact assisted living facilities, nursing homes, and other care facilities in your area to inquire about the prevention and infection control measures being taken to protect those that visit or require the facility at times you are unable to provide care.
Compare what you are told to the guidelines implemented by the Centers for Disease Control and Prevention. If they match up, it is likely safe to allow your loved one to stay when you need the services offered.
If you are the primary caregiver of a dementia patient, it is important to understand that you may fall ill with the COVID-19 infection. Of course, this is through no fault of the individual you are caring for, but you will have to have a backup caregiver in place that will be able to take care of the dementia patient while you recover.
You may use the step above and contact facilities that offer day care and overnight stays. You should only select memory care services, as the health care workers in these types of settings are specially-trained to care for and assist dementia patients.
Increase Hygiene Reminders
Forgetfulness is the main symptom of dementia. During the coronavirus outbreak, it is critical that everyone washes or sanitizes their hands regularly, understand the rules associated with social distancing, and takes care not to contract the illness.
You should put up hygiene reminders throughout the home. By the sinks, keep soap and paper towels. Place a sign up that says "Wash Your Hands with Hot Water to the Count of 20".
Throughout the home, on end tables and other areas, keep hand sanitizers with a sign that says "Rub This All Over the Hands". If need be, verbally remind your loved one or have them wash up and/or use sanitizer at the same time that you do.
Memory Care is an Option
This is a very uncertain and challenging time. Caregiving for someone with dementia may just be too difficult for you. Perhaps, you simply do not want to put them at risk for developing the disease. Maybe you need to work more due to an influx demand for your industry.
Regardless, it is possible to place your loved one in a clean, protective environment during the coronavirus pandemic. If you have an interest in temporary memory care placement or would like general information on memory care placement, contact us here today by calling: 973-713-0096