If you are the caregiver of an elderly loved one, you will navigate numerous obstacles throughout the experience. One of the most challenging is obtaining a solid understanding of Medicare.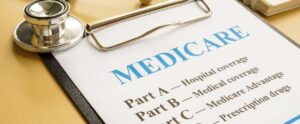 While not all individuals that utilize Medicare are elderly, many over the age of 65 depend on this health care program for various health-related needs.
Others that may use this include certain individuals under 65 that have various disabilities or those that have permanent kidney failure that required either dialysis or a transplant.
In this guide, we will outline the specifics as it pertains to your loved one 65 or older. 
Medicare Explained
Medicare is a federal-based health care insurance program. The government pays providers in a direct manner for services rendered that fall under the Part A and the Part B (Original Medicare).
If coverage is not available but needed in excess of the Part A and the Part B, it is possible to purchase a Supplement Plan, an Advantage Plan, or a Part D Prescription Plan.
Medicare is divided into four different categories. These allow for the customization of coverage. They are Part A, Part B, Part C, and Part D. Continue reading to learn about each of these categories. 
What Is Part A Medicare?
Part A Medicare is – in short – hospital insurance. It is designed to cover emergency room services, care, and stays that occur at a hospital. Additionally, it covers home health care services.
It will provide coverage for care received in a nursing home and for hospice care and services. Most that have this insurance are not required to pay a monthly premium. 
What Is Part B Medicare?
Part B Medicare is the medical insurance component of Medicare. It covers services and various supplies that are medically necessary to your loved one. These include those that aid in early detection, preventative, diagnosing, and treatment.
Examples of those services covered in this category include ambulance services and procedures that are performed on an outpatient basis.
It will even cover clinical research services. Each person that receives Part B is required to pay a monthly premium. 
What Is Part C Medicare?
Part C Medicare is also known as Medicare Advantage. This combines the coverages provided with Part A and Part B. It may also include Medicare Part D.
This particular form of Medicare is provided to clients through private companies that have been previously approved by the Medicare programs. 
What Is Part D Medicare?
Part D Medicate is a type of prescription drug coverage offered by private companies. This helps in covering the cost of prescription medications.
This includes many different types of vaccines and other shots that are recommended by medical professionals.
Various plans are offered and each have their own monthly premiums. Additionally, other costs may occur throughout the year. 
Free Information
If you find yourself struggling to understand Medicare and care options that are available for your elderly loved one, we here at Beacon Senior Advisors offer a free service that includes all relevant information and assistance.
We encourage you to contact us immediately to set up an appointment by calling: 973-713-0096