The term identified as "sundowning" is used to identify a state of confusion that initiates in the latter part of the afternoon and proceeds into the night. It occurs in those who have a form of dementia. It is a set of symptoms – not a disease – that develop at a certain time of day.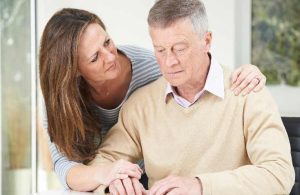 Sundowning can cause many different types of behaviors and emotions. Examples include anxiety, aggression, seemingly ignoring directions, pacing, and even wandering. Continue reading to learn more about sundowning and to learn strategies on how to reduce it from occurring in your loved one.
What Causes Sundown Syndrome?
To date, medical professionals are unsure of what causes sundown syndrome. Many believe that the changes occurring in the brain may result in a direct impact on the inner clock, or "body clock".
It has been established that the part of the brain that produces signals during the wake and sleep cycle actually deteriorates in those who have dementia.
Suspected triggers include less lighting and an increased level of shadows. Additionally, many dementia patients have issues separating the dreams that they have from reality. This could result in a high level of disorientation.
Helping a Loved One Suffering from Sundowning
While it is not always possible to prevent sundowning from occurring or to completely stop it once it occurs, there are a few tips that may be taken to help your loved one. These include the following:
Establish a schedule for your loved one. This should include a time to wake up, a time for meals, specific intervals throughout the day for activities, and a time for bed.
Ensure that your loved one gets plenty of sunshine throughout the day. This way, once the outdoor light starts to fade, nighttime sleepiness will occur.
If at all possible, limit the amount of time your loved one spends napping throughout the day. You should not let them nap in the 4-hour period before bedtime.
If your loved one is used to consuming caffeine and any type of products that include sugar, limit these items to only the morning hours.
Make lunch the largest meal of the day and keep meals that are offered in the evening small and simple.
Stop all exercise and heavy physical activities no later than 4 hours prior to bedtime.
Make certain that room temperatures are kept at a level that ensures comfort.
As the day progresses, reduce background noises and activities that are stimulating. This includes turning down the television or radio. In some instances, you may find that any noise-producing activities must be completely eliminated.
If sundowning occurs quickly and you suspect your loved one may be suffering from another issue – such as sleep apnea, anxiety, or a urinary tract infection – make a doctor's appointment and discuss your concerns with a medical professional.
Seek Assistance
If your loved one starts experiencing sundown syndrome, you may find that caring for them becomes immensely challenging. There are nursing homes, assisted living facilities, memory care facilities, and adult day care services that may offer respite.
To learn more, contact us here at Beacon Senior Advisors for assistance by calling the following number: 973-713-0096 or visit www.BeaconSeniorAdvisors.com