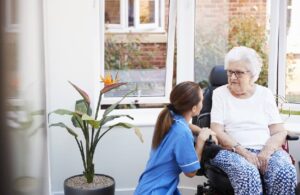 It is common for families to – eventually – pursue the care provided in assisted living facilities for their aging loved ones. Not only do these facilities provide essential care services, but they offer a general level of peace of mind for family members and other loved ones of the individual requiring the care. The question is, who do you contact about placing a loved one in assisted living? In this guide, we will outline the process. Continue reading to learn more.
Signs It's Time for Assisted Living
Before pursuing assisted living care for your loved one, it is important first to consider whether or not it is time for this transition. The following outlines the top signs:
Poor Health
Limited Mobility
Self-Neglect/Poor Hygiene
Isolation
Problems Managing Daily Tasks
Memory Issues
Complications in Caring for the Home
Safety Concerns
Poor Medication Management
Weight Loss
Unsanitary Living Conditions
Struggling with Activities of Daily Living
Inability to Transport Themselves
Failure to Keep Appointments
Failure to Pay Bills
This is just a small list of the signs it's time for assisted living. Your loved one does not have to display all of these signs. Even just one – such as struggling with activities of daily living – is enough to consider assisted living placement for an older loved one.
What is Assisted Living?
Assisted living is a community that is created for individuals who would benefit from personalized care within a residential setting. It is designed for those who need assistance with their daily care. The care is not as comprehensive as provided in a nursing home setting. Typically, the individual has their own space – such as an apartment. Common areas are shared. Meals, housekeeping, medication management, laundry, supervision, and security are provided.
Senior Care Advisor
If your loved one is showing signs that it's time to consider assisted living, you should contact a senior care advisor for assistance. These specialists are trained to help families navigate senior housing options. They are compassionate and truly put the needs of older adults before all others. Personalized support will be provided. Senior care advisors educate families on all their options.
In most instances, senior care advisors work with a wide network of assisted living facilities to ensure that they direct families to those that are best suited for their needs. We here at Beacon Senior Advisors specialize in this area.
We are compassionate and knowledgeable. We will help take the work out of the process and eliminate stress on you, your loved one, and your family. To learn more, contact us today. We will help direct and guide you to ensure that your loved one gets the care that they need when they need it most. Call now at 973-713-0096 or visit us at www.BeaconSeniorAdvisors.com