The advance directive is a type of legal document that outlines your preferences regarding medical treatments that you want followed in the event that you are unable to make your own healthcare decisions known at the time in which they are required. You may complete this on your own.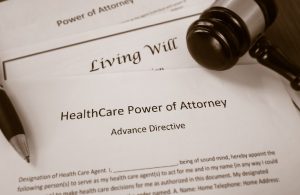 In most instances, you may visit the Department of Health website for your state, and search "advance directive" to locate the appropriate form and print.
Here is an outline all that you need to know about the advance directive in New Jersey – which is essential for all to have in place. 
The Basics of the New Jersey Advance Directive
If you live in the State of New Jersey, you should know that there are two types of advance directives. The first is referred to as a "proxy directive". The second is identified as an "instruction directive". You may have both types put into place, or just one type – the choice is yours. 
What Is the Proxy Directive?
The proxy directive is often referred to as the "Durable Power of Attorney for Healthcare". This type of advance directive allows you to make someone in charge of making healthcare decisions on your behalf in the event that you are unable to make those decisions on your own.
It immediately goes into effect whether you are experiencing a temporary issue or a permanent issue. The person you designate is then named your "healthcare representative". 
What Is an Instruction Directive?
The instruction directive is referred to as the "Living Will". On this, you will outline what situations you want to have life-sustaining health treatments for and the ones that you would not want these types of treatments performed. On the form, you actually outline this information, which informs your family and your doctor of your wishes.
Additionally, you may outline your general care preferences, personal values, and your beliefs. This type of advance directive guides others when making decisions about your care. When used in conjunction with a proxy directive, it outlines situations that are typically not covered in the initial document. 
Should I Have Both a Proxy Directive and Instruction Directive?
Yes, it is best to have both a proxy directive and an instruction directive. This covers your care in all situations. Your healthcare representative, an alternative representative, members of your family, and any doctors that care for you should all have copies of these documents.
If you are treated at a hospital, live in assisted living, a memory care unit, or a nursing home, copies should be provided to these medical institutions. 
If I Am Still Able to Make My Own Decisions, Will I Be Able To?
Yes, if you are able to make your own decisions, you may still do so. The advance directive that you choose will only go into effective if a doctor has performed an evaluation and has determined that you lack the understanding of your diagnosis, the options you have for treatment, and the benefits and potential consequences of the options for treatments that are available to you.
The advance directive also goes into effect if you become unconscious and physically unable to make decisions. If you develop a form of dementia or another type of cognitive decline, the directive only goes into effect if you have a Durable Power of Attorney for Health Care in place; otherwise, a person of interest must obtain legal guardianship. 
Contact Us Today
Maneuvering advance directives may prove to be quite challenging. If you have any questions, we here at Beacon Senior Advisors can assist you with the endeavor. Our services are absolutely FREE!
We know and understand the challenges associated with senior care, the care of those that have increased healthcare needs, and how complicated knowing what you need and when is – and we can help! For more information, contact us today by calling: 973-713-0096