Living with dementia during any point in time results in an immense amount of challenges for the patient and those around them. Those challenges have now intensified since the emergence of the COVID-19 that has resulted in the current pandemic.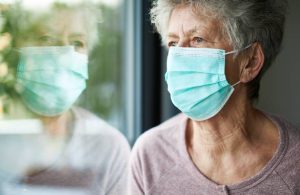 While medical professionals and organizations – such as the Centers for Disease Control and Prevention and the World Health Organization – have constantly expressed the fact that the most common symptoms associated with an infection are fever, cough, and respiratory issues, doctors and researchers are now discovering that patients that suffer from dementia may not exhibit these traditional symptoms.
If you are a caregiver of a dementia patient, it is imperative that you continue reading to learn about the non-traditional and unusual symptoms being experienced by those with various forms of dementia.
A Comprehensive Review in Atlanta
There are two psychiatrists in Atlanta, Georgia – Dr. Gary Figiel and Dr. William McDonald – that work directly with patients that reside within assisted living facilities. In February 2020, they wanted to research COVID-19 and its effect on the seniors that they work with and treat in the assisted living facilities located within the Metro-Atlanta region.
It started with a simple examination of the medical records of those elderly patients that were among the first confirmed cases in the area. Immediately, they noted that the first four had Alzheimer's disease, a devastating form of dementia. In reviewing their symptoms, they discovered that they did not have a fever, there was no cough, and they did not suffer from shortness in breath.
What they did discover was that there were several significant behavioral changes that were not currently listed as potential symptoms of the infected by the CDC and the WHO. The dementia patients experienced higher levels of agitation, increased moodiness, irritability, and severe cognitive decline.
All of the initial patients – despite their having Alzheimer's disease – were considered to be "high functioning"; however, after contracting the virus, they were unable to do tasks that they previously were capable, such as dressing and bathing themselves, and being able to follow relatively simple directions provided to them. In total, 12 files were reviewed and 8 of those patients had Alzheimer's disease. The following points were taken away from the research:
None of the dementia patients had the traditional fever, cough, and shortness of breath symptoms in the first 2-3 days of being infected with COVID-19.
The 4 patients that did not have dementia did have the typical fever, cough, and shortness of breath symptoms that are common among COVID-19 sufferers.
All dementia patients experienced some degree of cognitive decline when infected with COVID-19.
All dementia patients exhibited behavior changes once infected with the coronavirus.
According to the Alzheimer's Association, of those living in assisted living facilities and nursing homes, more than half have been diagnosed with dementia.
Increased Risk of Delirium
Delirium is a state that involved a temporary-based change in the behavior of an individual as a result of an acute illness and/or infection. Dementia is considered to be the highest risk factor among patients.
Patients with dementia that develop delirium will likely become highly lethargic. Their speech may start to significantly slow and become negatively impacted. Their mood may change. It may result in the onset of agitation and aggression.
Many dementia patients that develop delirium may become violent. When a dementia patient becomes ill and develops delirium, the time it takes for them to recover is longer and they may experience higher complications. It may also increase the risk that the patient will die from COVID-19.
Permanent Progression
While it is true that most cases of delirium are temporary and are experienced under acute physical stress, it has been established that it can result in permanent progression among dementia patients. In other words, it has the capability of resulting in a noticeable level of cognitive-based deterioration.
If delirium – another non-traditional symptom of COVID-19 – occurs, chances are, the dementia patient will never return to their baseline prior to contracting the virus. Any significant illness that results in delirium will likely result in the permanent progression of dementia. The same holds true for delirium that may develop with COVID-19.
Risks Associated with Severe Illness
It is now a known fact that individuals with dementia that become infected with the current coronavirus are at a significantly higher risk of developing severe complications associated with the illness. According to current statistics, 9 out of 10 of the COVID-19 fatalities occur in people over the age of 60.
Most dementia patients are at least 60; though, there are exceptions for those that develop early-onset dementia. In addition to this, any serious underlying health issues – such as heart disease, diabetes, and high blood pressure – may result in further complications for a dementia patient that contracts COVID-19.
Other Symptoms
In addition to the non-traditional symptoms outlined in this article, there are other symptoms that could indicate the development of a COVID-19 infection. As a caregiver of an individual with dementia, it is imperative that you learn about these symptoms.
Many may exhibit a few symptoms, and others may exhibit most – but not all patients will experience all of these symptoms. If you have any concern about the individual with dementia that you care for, seek medical care immediately. A delay in treatment for a person with dementia and has contracted COVID-19 may mean the difference between life and death:
Fever
Cough
Change in Taste
Change in Smell
Loss of Taste
Loss of Smell
Shortness of Breath
Loss of Appetite
Vomiting
Diarrhea
Weakness
Fatigue
Muscle Pain
Joint Pain
Dizziness
Nausea
Falling
Severe Breathing Difficulties
Coughing Up Mucus and/or Blood
Blue-Colored Lips
Blue-Colored Fingernails
Blue-Colored Toenails
Blue-Tinged Coloring to Skin – Particularly, the Face
Cold, Clammy Skin
Paleness
Blotchy Skin
Rash That Doesn't Fade When a Glass is Rolled on Top of It
Feeling Faint or Actually Fainting/Collapsing
Increased Confusion
Appearing Extremely Drowsy
Significant Decrease in Urine Output
Low Oxygen Levels (As Determined by a Pulse Ox Meter)
Conclusion
Caring for an individual that has been diagnosed with dementia is an extremely challenging task. This is even more true amidst the current pandemic. It is advised that you self-isolate the individual at home and reduce the amount of interaction that they have with others.
If this is not possible, help the patient remain socially distanced to others and ensure that they wear a face covering. You should also encourage them to wash their hands frequently and keep their living area both clean and sanitized.
Watch for the symptoms outlined in this guide. Be it traditional or non-traditional symptoms of COVID-19, seek medical assistance quickly. If the care of the patient becomes too intense or you feel as if it is time to move them to facility memory care, you may contact us here at Beacon Senior Advisors for more assistance: 973-713-0096